Dynamite Expert Challenge
Edit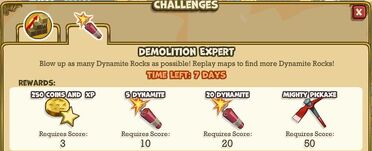 This Challenge started on January 24th 2012 for a duration of 7 days. This time you need to blow up as many Dynamite Rocks as you can. The trick is to find easily accessible Dynamite Rocks without wasting too much energy since Dock Worker Challenge is till running.
At the West Pole Adventure Dynamite Rocks look like giant crystals, not like rocks. But they still count.
| | |
| --- | --- |
| Expedition | Dynamite Rocks |
| The Cookie Caper | 0 |
| Balloon Business | 1 |
| The List | 2 |
| Snowy Forest | 0 |
| Arctic Ascent | 4 |
| The Frozen Courtyard | 3 |
| Temple of Nickolas | 1+1 |
| Holiday Escape | 6 |
Dock Worker Challenge
Edit
On sunday January 22th 2012 another challenge started this time to collect Supplies. Supplies can be collected in different ways: using Supply Boats, Using Supply Drops, visiting neighbours and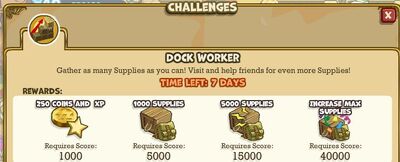 helping their Supply Boats and Supply Drops and using Flare Guns. Also Mystery Boxes are know to drop Supplies now and then. Another way is sending supplies via Free Gifts (up to 15) to friends and hoping they send them back.
Supply Drops (if completely leveled up) give 1000 Supplies every 24hrs. Flare Guns cost 2500 Coins and drop a Supply Crate containing 75 Supplies but it costs an energy point to open these crates. Therefore Flare Guns aren't an option. The fastest way is using Supply Boats: 100 Coins and one energy points every 5 minutes using all 6 Supply Boats means 150 Supplies every 5 minutes. However you'll run out of energy pretty soon. Visiting your neighbour will result in 40 Supplies maximum (Supply Drop + 4 x Supply Boats = 20 + 4 x 5 = 40) or minimum 25 Supplies if the person doesn't have a Supply Drop (5 x Supply Boats = 5 x 5 = 25).
Ad blocker interference detected!
Wikia is a free-to-use site that makes money from advertising. We have a modified experience for viewers using ad blockers

Wikia is not accessible if you've made further modifications. Remove the custom ad blocker rule(s) and the page will load as expected.